"I never thought it would happen," says Song on dream Sangambeol 'away' team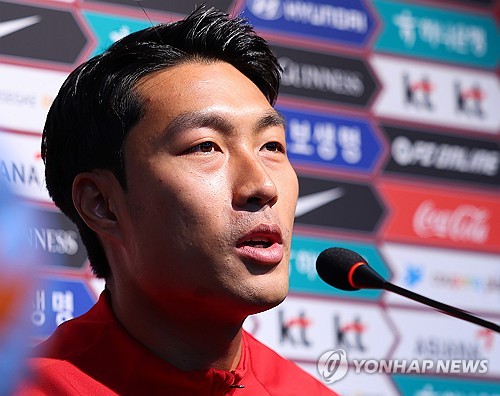 Korean-Singaporean naturalized soccer player Song Eui-young (30-Surabaya) said this at a press conference at the Seoul World Cup Stadium on Friday, a day ahead of South Korea's second Asian qualifying match for the 2026 North and Central American World Cup.
Song was born in Incheon and learned to play soccer while attending elementary, middle and high school in South Korea.
Upon graduating from high school in 2012, he joined Singapore's prestigious Home United (now Ryan City), which was coached by Lee Im-sang at the time.
Song established himself as a top striker in the Singaporean league, and in 2021, he was offered a full citizenship by the Singapore Football Association.
He made his A-match debut in a Singapore jersey in November of that year and has since scored four goals and provided three assists in 20 A-match appearances.
When Song Eui-young steps onto the pitch at the Seoul World Cup Stadium on Saturday, she will be facing the South Korean national team for the first time in her life.
It will also be the first time in Korean soccer that a Korean who grew up in South Korea will play against the national team of a foreign country as a member of that country's national team.
"The Seoul World Cup Stadium is something I dreamed of when I started playing soccer as a kid," said Song. I'm excited and looking forward to it," he said. "I'm sure many youth players have that dream. Even though I'm here as part of the away team, I'm grateful to be able to play in Seoul Sangam and in front of Koreans."
Singapore defeated Guam in a playoff to advance to the second round. Before the game against Guam, Song said her family, including her parents, put pressure on her to win and come to Korea to play.
"I'm very grateful to be playing against Korea tomorrow," Song said. I hope to give a competitive performance," she smiled.
When asked about her two years as a member of Singapore's national team, Song said, "I was very nervous at first. It was a challenge to prove myself. I prepared hard, played hard, and now I feel comfortable playing. I'm playing as a team with my teammates," he said, adding, "I think it's an honor to play for my country."
She also admitted that she and her teammates were struggling to adjust to the chilly late fall weather in Korea.
"I had heard that it was suddenly cold, but it was really, really cold," Song said. My teammates told me that they couldn't move their bodies, so it was hard to adjust," he said, "but I think my body moved a little smoother on the second day."
"I played soccer in Korea, but it's been a long time since I've kicked a ball in this kind of weather, so it took me a while to get used to it (as well as my teammates)," he said with a wry smile.
Song added: "Korea is the strongest team in Asia. I was nervous, but I did my best to prepare. It's important to play without being intimidated," she said.
"It's a great opportunity to play against a strong team like Korea," said Singapore head coach Takayuki Nishigaya. We will give 100%," said Singapore coach Takayuki Nishigaya.
"It's a huge confidence booster for us, but there's a clear difference between the national team and the professional level," he said of Ryan City's upset win over Jeonbuk Hyundai at home in the recent Asian Football Confederation (AFC) Champions League (ACL). 토토사이트